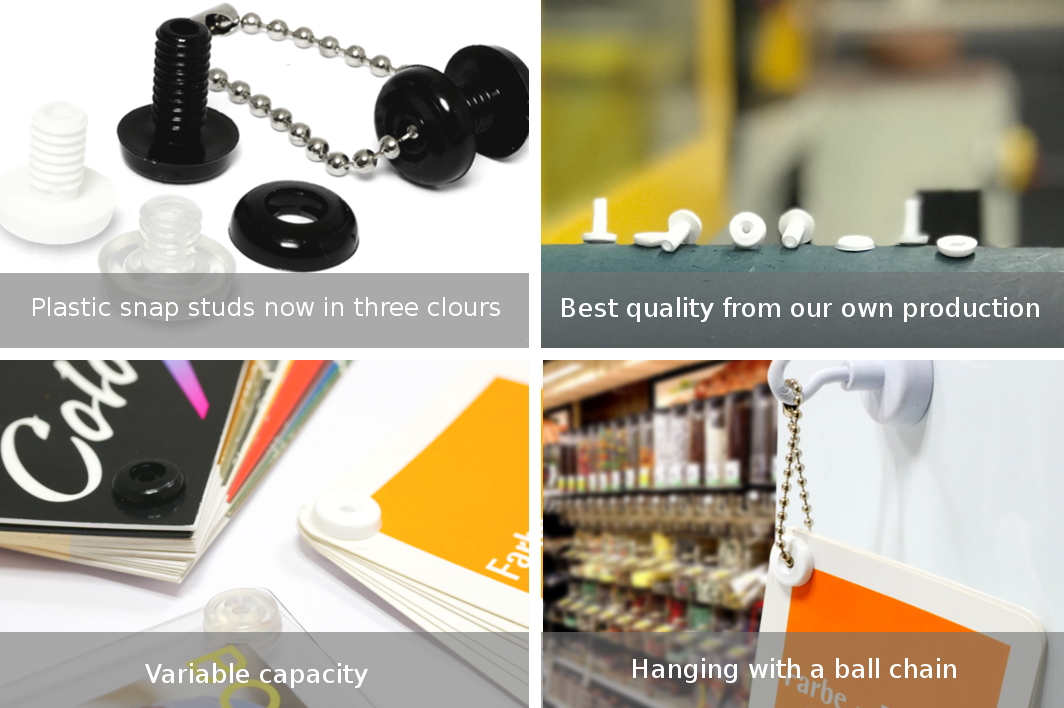 Plastic snap studs – the handy connectors now even more flexible from our own production
Plastic snap studs are a very popular fastener for flyers and other print products due to their ease of use, their variable capacity and the ability to hang them.
The high demand for this article has motivated us to invest in a new plastic injection tool. Therefore we can now offer our popular plastic snap studs from our own production. Your advantage: favourable prices, short delivery times as well as the realization of special requests and all this with top quality.
In addition to the version in transparent we have now also included the colours white and black as standard colours in our range. Special colours are also possible from a certain quantity.
For those who have used our plastic snap studs not yet here are the advantages of these handy connectors:
– Easy installation by hand
– Variable capacity therefore always fitting
– Hole trough for suspending the snap studs
With plastic snap studs perforated sheets can be connected easily. They bind individual pages to a flyer for example.
The assembly of the plastic snap studs is possible without additional tools by hand. The two parts are simply pressed together. There are notches on the shaft part into which the head part engages. Once engaged the two parts are firmly connected and cannot be easily solved.
Because there are several notches along the shaft the capacity of the plastic snap studs is variable. You can slide the head part exactly to the required capacity. Therefore the plastic snap studs are always fitting no matter if you want to bind only a few or many perforated papers.
The plastic eyelets are also available in 3 different lengths. Thus their capacity can be even more suitable to the bound product.
The plastic snap studs also have a through hole of 2.7 mm diameter. This allows you to pull through a ball chain and then hang the bound product. Your information materials are always ready to hand and neatly attached. In addition you can also connect the information material firmly to a shelf and prevent them from being lost.
Social Share