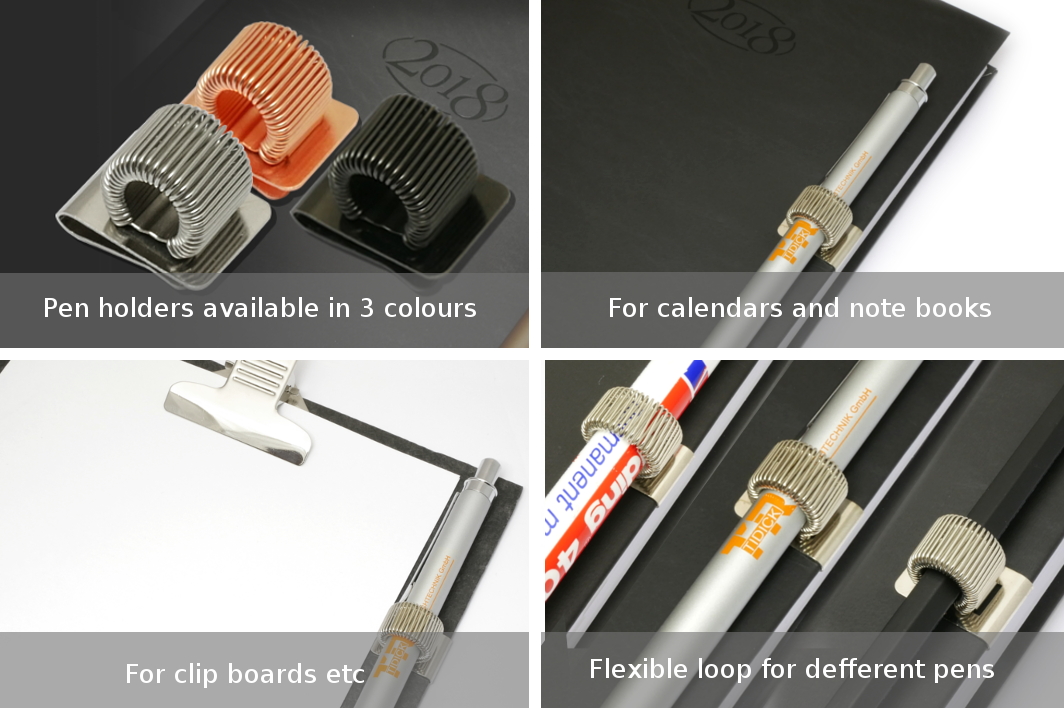 Pen holder made of metal with clip for attaching
Now also available in a version with attached metal loop in three different colours!
In keeping with the beginning of the year, we are expanding our product range with the metal pen holder with clip to attach. This pen holder has been especially designed for book calendars / weekly timers.
A pen holder with clip allows you to attach writing utensils, such as ballpoint pens to book calendars, weekly timers, clipboards and other objects in a particularly simple and attractive way. Due to the flexible metal loop the pen holder with clip is suitable for many different pens.
A pen holder with clip offers the following advantages:
– attach pens to book calendars, weekly timer, clipboards and more
– flexible loop adapts to your pen
What does a book calendar bring if you do not have a pen on hand to add important dates to the calendar? Thanks to the new pen holder with clip to attach, searching for a pen is now a thing of the past.
The pen holder has a flexible clip which makes it possible to attach the pen holder to various objects. In this way you can equip especially book calendars, weekly timer or also notebooks, clipboards, organizers, folders and other organizational devices with a handy pen holder.
The clip holds firmly after sliding on which prevents slipping of the pen holder. Even when inserting and removing your writing instrument the pen holder with clip remains in place. If it is needed the pencil can also be released again for example to attach it to a new notebook.
The pen holder with clip has a metal loop that is attached to the top of the clip.
This will make your pen sits on top of the book cover, is close at hand and is visually more
staged!
The metal loop is very elastic and can therefore adapt to the diameter of your pen. Whether pencil or thicker ballpoint pen: The pen holder with clip keeps your writing instrument reliably in place. Only pens with a rubber coating are less suitable for this pen holder with clip because the rubber makes the insertion of the pen into the holder more difficult. If you still want to use your pen with rubber sheath we recommend our self-adhesive plastic or metal pencil holder (item no.: 1015).
In addition to the practical benefits of the pen holder with clip convinced this also by its high-quality appearance.
The three appealing colours of the new pen holder, silver, copper glossy and black enhance every book calendar visually.
Social Share