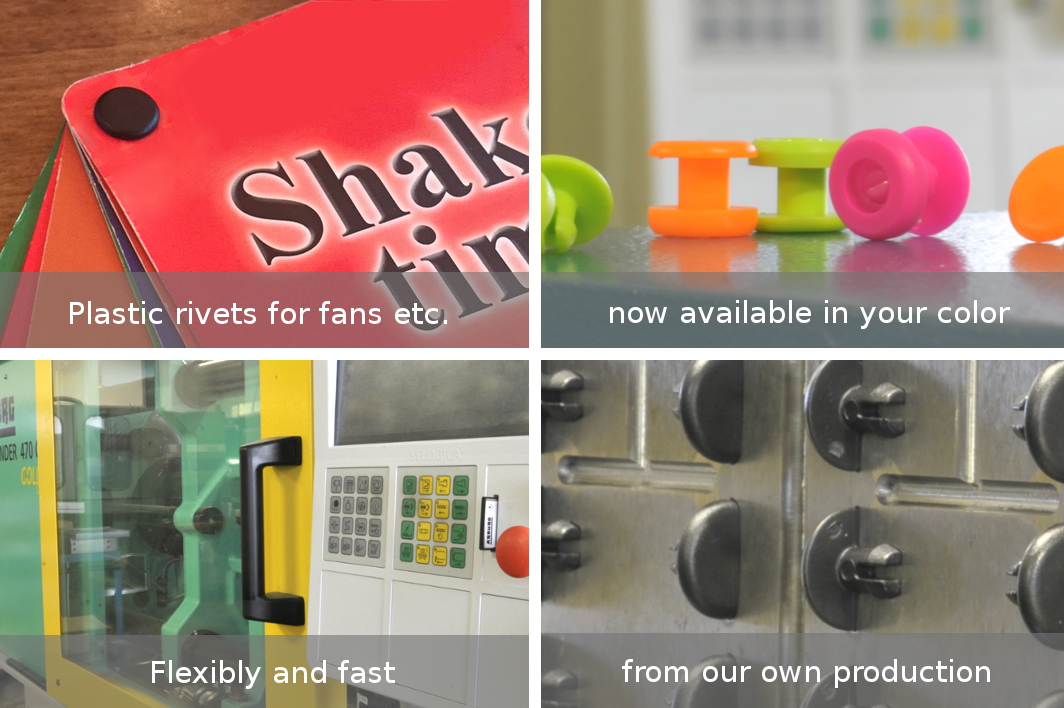 Plastic rivets now available in your favorite color!
Plastic rivets color-matched to your product.
Due to the completion of our new injection molding tool for plastic rivets we are now able to offer you plastic rivets very quickly and flexibly. You cannot just choose between the standard colors like black, white or transparent. At us you can receive the plastic rivets also according to your wishes in nearly every RAL color.
Plastic rivets are characterized by the following features:
– Durable bond for print products and many more.
– Easy to install without tools
– Flexible through various capacities and colors
Plastic rivets are a very popular tool for binding print media. Single pages of flyers or menus are often held together with plastic rivets. Installation of plastic rivets is very simple and requires no tools. The upper part must be pressed into the lower part only. The spread head holds the two parts of the rivet together safely.
Plastic rivets cannot be used for producing flyers only. Also in the display area of stores plastic rivets are often used. They keep mostly together individual parts of floor or counter displays. The applications are numerous. Wherever parts are to be connected in a simple way the plastic rivets a good choice.
Whether you want to bind only a few sheets or want a flyer with a lot of sheets with plastic rivets you always remain flexible. The plastic rivets are available with the capacities 2.5; 3; 5; 7.5 and 10 mm. You can therefore select the appropriate version for your application and have the contents neither squeezing nor leave too much space.
As standard we offer the plastic rivets with the colors black, white and transparent. An even more individual product you can create with colored plastic rivets of course. You get the plastic rivets with us in your individual RAL color to have the ability to adapt the plastic rivets on your print product optimally.
Other products for binding print products or connect display elements can be found in our product category display products.
Social Share