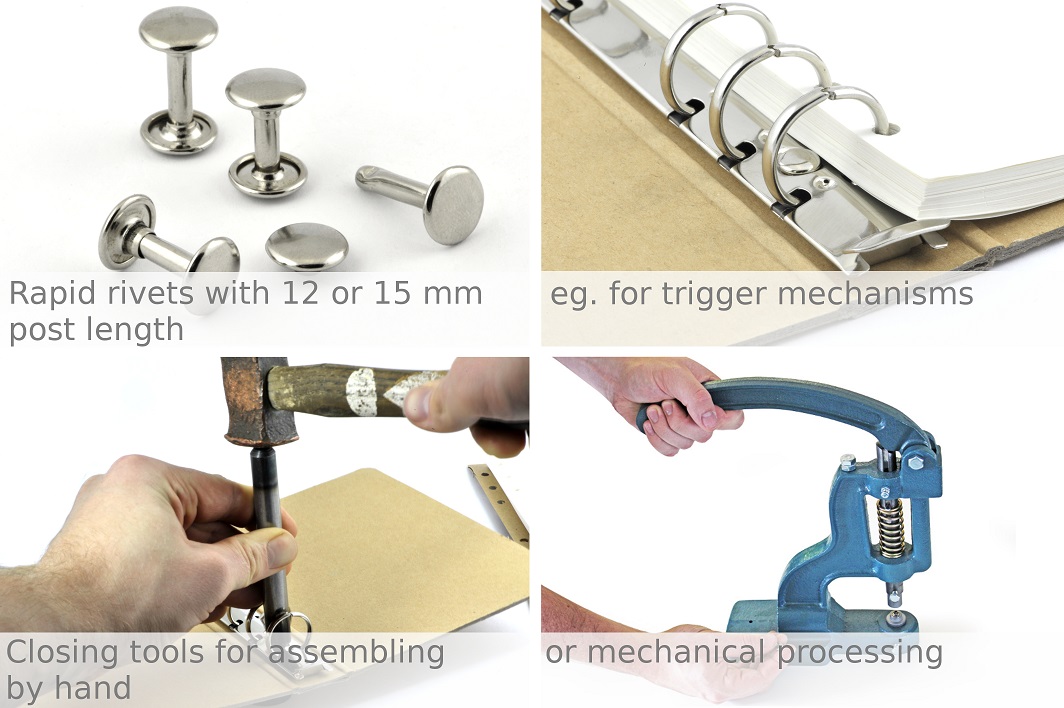 Extra long rapid rivets for easy fastening of trigger mechanisms and much more
From now on we also offer extra-long rapid rivets, with a shaft length of 12 and 15 mm. This gives you the opportunity to use the easy to process rapid rivets even with mechanisms and materials that have a greater thickness. The following points speak for the use of rapid rivets as fasteners:
⋅easy and quick assembly, without special tools
⋅secure and permanent connection of mechanism and underground
⋅flexibel, by different sizes
Thanks to the new and extra-long rapid rivets, you now have the option to fasten mechanisms, such as wire clip mechanisms or ring binder mechanisms RBM on an underground with a greater thickness, such as for example a 10 mm thick wood panel. Also attaching mechanisms that already even have a large height, as it is the case with various trigger mechanisms, is now possible. Trigger mechanisms were only riveted with tubular rivets previously.
Rapid rivets are characterized by the fact that they are particularly easy to work with. The processing of rapid rivets does not require a special fastening tool, as it is the case with tubular rivets. The rapid rivets consist of two parts, the head and the lower part. After having head and lower part plugged into each other, the two parts of the rapid rivets are compressed by a hammer blow, which deforms the shaft located in the head and fills the head. The now resulting compound of the head and shaft is extremely strong and durable.
Although a tool for fastenig the rapid rivets is not urgently needed, we recommend the use of our hand tools or our closing tools for insertion into a hand or pneumatic press. The tools are specially adapted to the rounding of the rapid rivets. Thus, the heads of the rapid rivets retain their round shape and will not be beaten flat.
If you need another blank, do not hesitate to contact us. We carry many other rapid rivets and tubular rivets in various sizes and with different surfaces.
Also special designs, such as rivets with color coated heads, according to your individual color requirements are also possible. We will gladly advise you on the subject of rivets and fasteners. Give us a call or send us an email.
Further rapid rivets
Further platings are possible
Here you get to the category "Rivets"
Social Share