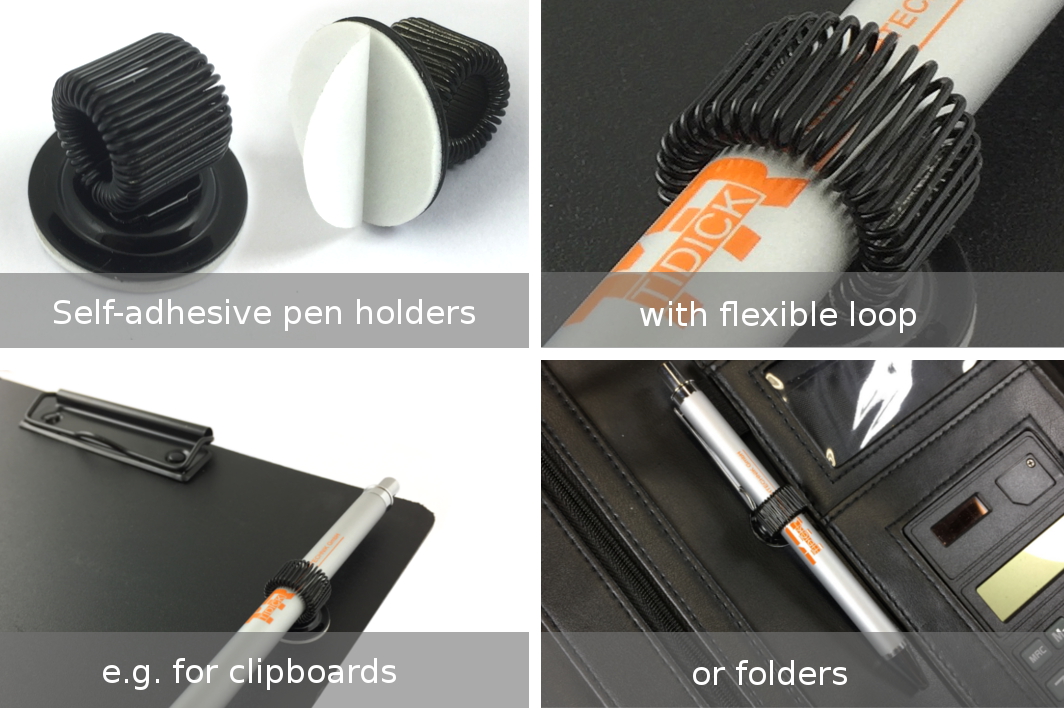 Self-adhesive pen holders now available in black!
Elegant black pen holders with flexible loop for folders, clipboard and more.
Our popular self-adhesive pen holders with flexible loop are now available in elegant black as well as the known nickel-plated version.
Stylish pen holders with flexible loop are characterized by the following features:
– easy to assemble thanks to the strong foam adhesive on the base plate
– due to the flexible loop suitable for many writing instruments
Every day you need writing instruments such as a ballpoint pen to make notes, fill out documents or to process checklists. Into the company or at home. Often it happens that you have lost your writing instrument and the search for a pen begins. This can not happen to you with a pen holder any more. With a pen holder you can attach your writing instrument exactly where you need it. Application examples can be: folders, clipboards, machines or even shelves. Easy to use anywhere you need your pen.
The mounting of the pen holders is easy. They are equipped with a strong foam adhesive on the back. This means they stick securely to almost any dry and clean surface. You just have to peel off the protective film and you can already stick the self-adhesive pen holder at any desired position.
As soon as the pen holders are installed at the location of your choice you can insert your pen into the flexible loop. The flexible loop is in great advantage of this kind of pen holder. Most pen holders are usually only suitable for pins with a limited diameter. The flexible loop of our pen holder on the other hand adapts to your writing instrument and thus allows you to attach writing instruments with a very small or even a large diameter. From pencil to edding everything is possible.
The self-adhesive pen holder with flexible loop is very popular for many years. Until now they were only available in a nickel-plated version. Exclusive with us you get the pen holders with flexible loop now also in black. So you can make your black folder or black clipboard even more consistent.
Social Share